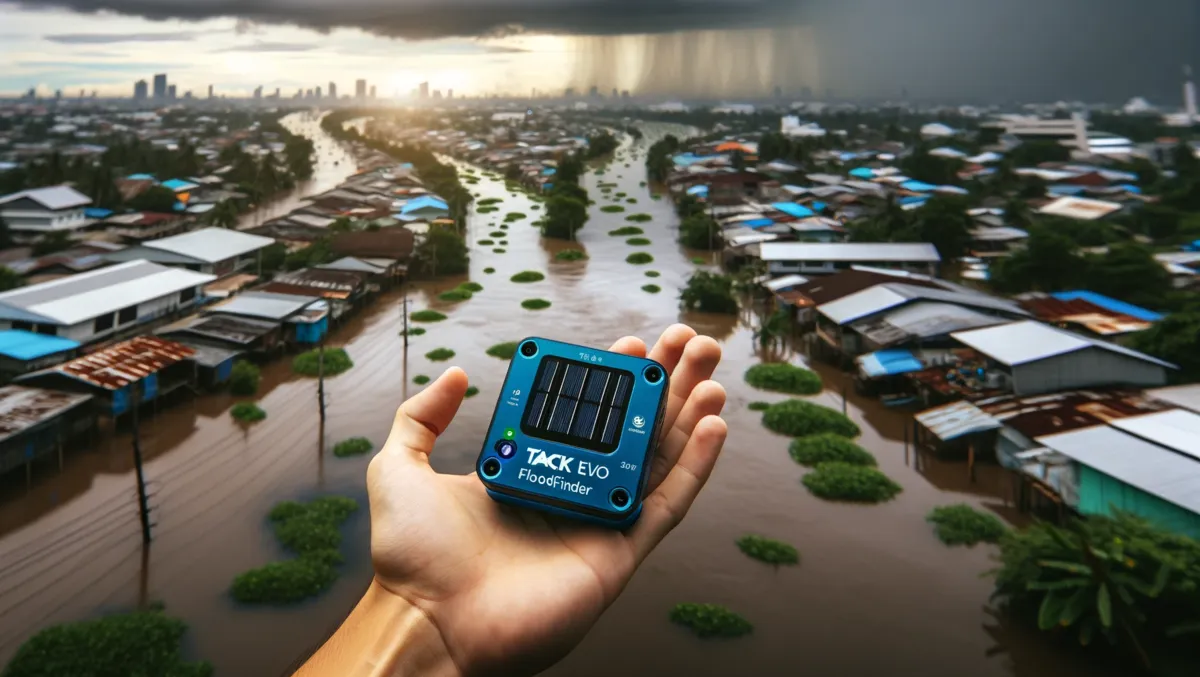 Tack One & Infineon develop world's first palm-sized flood monitor
Singapore-based global location intelligence firm, Tack One, has joined forces with Infineon Technologies to develop the world's first palm-sized, autonomous flood monitoring device. Tack EVO FloodFinder, a solar-powered and weather-resilient device, aims to help in tackling widespread flooding issues by monitoring water levels with unprecedented precision. Plans are being made to deploy the device in flood-prone areas, starting with Nonthaburi, Thailand, in late 2023.
This ground-breaking development by Tack One comes as the company ventures into a Series A funding round, seeking to raise US$2 million to broaden the deployment of its location intelligence systems and technology for more real-world application and commercialisation. The compact, sensor-based monitoring device, measuring just eight centimetres across, autonomously monitors water level changes and activates real-time alerts remotely when flood conditions are detected. Running on a self-sufficient solar-powered battery that can last up to three months without sunlight, this innovation proposes to transform how flooding is monitored and managed.
In the past half-century, nearly seven billion people in the Asia-Pacific region have been affected by water-related natural disasters. Flood detection technology is crucial for this region, as it is predicted that by 2050 one in four residents will be over 60 years old and need ample time to evacuate their homes in flood scenarios. Early evacuation warnings are essential, especially for Asia, the world's most disaster-prone region. There were 67 flood and storm disasters in Asia in 2022 alone, impacting over 50 million people and causing a staggering US$36 billion in economic damages. However, the challenges presented by existing flood monitoring technology, including size, implementation, and weather interference, highlight the urgent need for innovative approaches.
Situated at the intersection of miniaturisation, wireless secure connectivity, ultra-power efficiency, and renewable energy sourcing, the Tack EVO FloodFinder brings location intelligence to the forefront of disaster management. In the context of increasing, unpredictable extreme weather changes, this game-changing application aims to protect human lives and safeguard communities. Justin Zhang, CEO of Tack One, emphasised, "Location technology, combined with IoT, must come to the fore as we develop game-changing applications in disaster management to save lives and livelihoods".
This significant collaboration with Infineon Technologies is part of Tack One's larger strategy for devising resilient flood monitoring systems. The firm has its sights on using its location intelligence to serve the most vulnerable members of the community and other commercial applications at scale. The Tack EVO FloodFinder project exemplifies the collaboration's value in leveraging technology to combat the impact of climate change and protect lives and properties.
Tack One was founded by technology veterans with an overarching aim of using location data science to protect and safeguard. Its product line includes the Tack EVO FloodFinder and the Tack GPS, an ultra-long battery life location finder.